Interaction // Recent Additions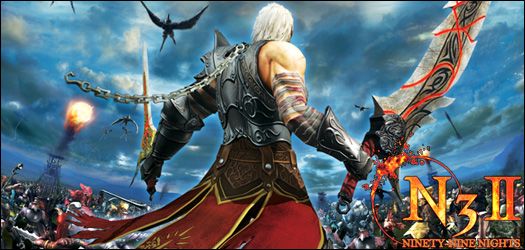 We have added a new section updated with the latest game logos, character artworks, screenshots, and game packaging for Ninety-Nine Nights II for the Xbox 360. The game will be released in North America on June 29, 2010.
Brief Game Description:
Ninety-Nine Nights II (N3II) is a high-energy action adventure game featuring epic battles against massive armies in a unique fantasy realm. This highly-anticipated sequel is the latest follow-up to the internationally-acclaimed Xbox 360 title, Ninety-Nine Nights (N3).
In a mystical world of miracles and magic, humans co-exist alongside many other races including the elves, goblins, and ogres. But when the "Lord of the Night" suddenly appears, in a mere 3 months the fertile fields of the land are reduced to scorched earth. Before long, Orphea, the sacred land to the north, is besieged by the Army of the Night. Amidst the roar of battle, one man thunderously bursts through the ranks of a legion like a bolt of lightning – he is "Galen," the ultimate warrior. Alone, he storms forward as he lays waste to the dark forces, letting nothing stop him in his path to Orphea Castle. Galen must battle through the hordes of enemies that await him and this onslaught escalates with imposing monstrous creatures that join the fray. Centering on "the inheritance of life," a new battle between light and dark begins!
Key Features:
* Encounter Massive Epic Battles: Staying true to its predecessor, N3II will pit players against hundreds of enemies on screen for some of the most prolific 'Hack & Slash' gameplay to date!
* Enjoy Dramatic Visual Upgrades: Improved graphical presentation on the Xbox 360 featuring more enemies on screen, over-the-top destruction (Orb Attack), and uncompromised levels of violence including a blood camera system.
* Select from a Multitude of Fighting Styles and Weaponry: Campaign with various characters, each equipped with customizable weaponry/accessories allowing for enhanced combo attacks and features that progressively change enemy battles.
* Form Alliances in Online Co-Op: Combat relentless enemies with a friend in fully supported online Co-Op play for 2 players via Xbox LIVE.
View Ninety-Nine Nights 2 Section now...
Discuss Ninety-Nine Nights 2 on KW Forum now...

In this new installment of KOEI Warriors: Conquerors "Slice of KW:C Life", we cover current news going on over at KOEI Warriors: Conquerors. There has been plenty of things happening now, much fun being had, and new improvements on the forum since we last made an update. We have a new forum background theme thanks to
Kunoichi
, who won the KW:C v2 Background Theme Contest.
Some other new additions are also with sprucing up the forum, we now have little image representations of the main discussion and forum concern forums, including sub-forums. The game sections still have their usual category representation just like all the other categories.

Chibi: Dynasty Warriors Conquer China, being a bite-sized version of Dynasty Warriors Conquer China, which is a forum based strategy/roleplay game hosted over at KOEI Warriors: Conquerors. The game has been running very smoothly and will soon be coming to the end of round 1. Many officers have been killed in the vast war over China, leaving less officers left to unite China under one banner.

Chibi: Conquerors of Japan was announced on our prior update. To continue from that, development of the game has been going strong, and will hopefully near completion soon so we can prepare setting it up for it to be played soon. I can't give anymore details of the game yet, nor a release date, but we'll be sure to announce it here when we know!

Road to Sekigahara, a new fresh game that has recently sprung up and started over at KOEI Warriors: Conquerors. Created by
Hideyori
, this game is a lot different than the usual Conquer game. It is more sim-based, and very similar to the style of Romance of the Three Kingdoms. You can pick an officer, choose a unit type to command, and then go out and attempt to dominate Japan.
The game heavily focuses on the two sides of the Sekigahara battle, the Eastern forces led by Tokugawa Ieyasu and the Western forces led by Ishida Mitsunari, while there are still small independent clans which can rise up to join either side, or try and remain independent. The game has quite a lot of free open slots to boot, so new members are welcome to come join in on the fun!
The best thing is just to come along and check it all out! KOEI Warriors: Conquerors offers a lot of fun for many members, as well as discussion and other interests. I look forward to seeing you over there!
~Shaun
Register at KOEI Warriors: Conquerors now...
View Chibi: Dynasty Warriors Conquer China now...
Discuss Chibi: Conquerors of Japan now...
Tell us What game's you'd like to see developed now...
Sign up to Road to Sekigahara now...
Read up on the new System for Road to Sekigahara now...
The Dynasty Warriors Online databook is now exclusively available for download to our forum members. Thanks to our Dynasty Warriors Online guru,
Pan2010
, for scanning and uploading this rare databook for KOEI Warriors. This high quality databook contains many artworks of Dynasty Warriors 5 characters, weapons, and DWO costumes. You'll notice that many of the costumes were actually implemented in the Create-A-Warrior system for Dynasty Warriors 6: Empires. The databook is only available with purchase of the Dynasty Warriors Online Treasure Box.
Download Dynasty Warriors Online Databook on KW Forum now...
(MEMBERS ONLY)
Discuss Dynasty Warriors Online on KW Forum now...
KOEI has announced the release of Samurai Warriors 3 / Sengoku Musou 3 Chibi Figurines Vol. 3 in
August 2010
. The 12 characters featured in Vol. 3 will be: Kunoichi, Ina, Ranmaru, Nouhime, Ginchiyo, Muneshige, Yoshihiro, Motonari, Toshiie, Hideyoshi, Ieyasu and Shingen.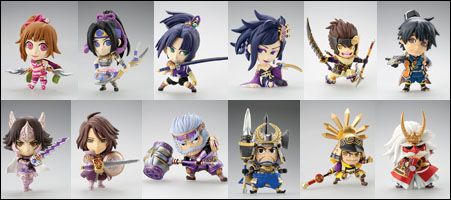 View Samurai Warriors 3 Chibi Figurines Vol. 3 (Hi-Res) now...
Discuss Samurai Warriors 3 on KW Forum now...
---
Game News & Release Dates
| | | | |
| --- | --- | --- | --- |
| Game Title (Platform) | | | |
| | Oct 23, 14 | - | - |
| | Feb 22, 14 | Mar 25, 14 | Apr 04, 14 |
| | Aug 14, 14 | Sep 26, 14 | Sep 19, 14 |
| | Mar 20, 14 | Oct 21, 14 | Oct 24, 14 |
| | Sep 26, 13 | Sep 02, 14 | Sep 05, 14 |
*Note: Q1 = Jan to Mar ; Q2 = Apr to Jun ; Q3 = Jul to Sep ; Q4 = Oct to Dec
---