Interaction // Recent Additions
The official site of Sengoku Basara: Samurai Heroes (Sengoku Basara 3) has been launched in Europe. Feel free to visit it now!
Visit Sengoku BASARA: Samurai Heroes (Europe) Official Site now...
Discuss Sengoku BASARA: Samurai Heroes on KW Forum now...
Computer and Video Games
(CVG) magazine recently interviewed TECMO-KOEI's senior managing director, Yoshiki Sugiyama, to discuss the latest upcoming games for 2010 and what the future holds in store for the company. Sugiyama gives us some insight on the gameplay for KOEI's newest musou game, Warriors: Legends of Troy. Here's an interesting quote from the interview.
quote:

---

"Legends of Troy will continue the open-battlefield structure of the Warriors franchise which is vastly different from God of War's channeled game play. Its open ended and as free-roaming as we can make it. The beauty of the Warriors series has always been that the player is empowered to change the ebb and flow of the battle.

You can either launch an onslaught on high-ranking enemies straight away or take a more tactical approach by conquering surrounding bases and cutting off supply lines. People need to explore these subtle options in order to get the full experience - a short, surface-scratching play through won't allow the same involvement.

It can take a while before the player can interpret the iconography of a Warriors battlefield that has been built up over the past 10-years. With new titles like Troy we hope to break some of those barriers down."

---
- Yoshiki Sugiyama, senior managing director for TECMO-KOEI.
Read Interview with TECMO-KOEI's Yoshiki Sugiyama now...
Discuss Warriors: Legends of Troy on KW Forum now...

KOEI Warriors: Conquerors has upgraded to version 3! We are using a new retro KW theme layout, along with a new logo and banner for your viewing pleasure! Come enjoy our games, discussion, contests and much much more in our new upgraded form!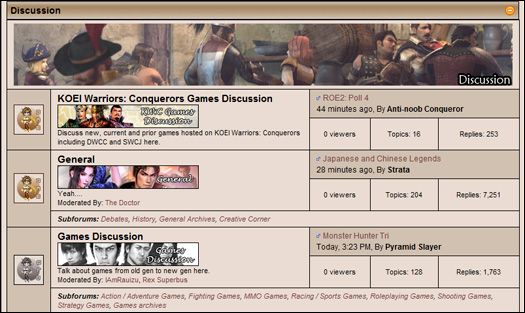 ~Shaun
Register at KOEI Warriors: Conquerors now...
Discuss KOEI Warriors: Conquerors v3 now...
The section for Sengoku BASARA 3 (Sengoku BASARA: Samurai Heroes) for the Nintendo Wii and Playstation 3 has been updated with the new game logo and all of the latest CG artworks with the 15 playable characters and 10 non-playable characters.
View Sengoku BASARA 3 (SB: Samurai Heroes) Section now...
Discuss Sengoku BASARA: Samurai Heroes on KW Forum now...
---
Game News & Release Dates
| | | | |
| --- | --- | --- | --- |
| Game Title (Platform) | | | |
| | Oct 23, 14 | - | - |
| | Feb 22, 14 | Mar 25, 14 | Apr 04, 14 |
| | Aug 14, 14 | Sep 26, 14 | Sep 19, 14 |
| | Mar 20, 14 | Oct 21, 14 | Oct 24, 14 |
| | Sep 26, 13 | Sep 02, 14 | Sep 05, 14 |
*Note: Q1 = Jan to Mar ; Q2 = Apr to Jun ; Q3 = Jul to Sep ; Q4 = Oct to Dec
---